Step 1: Set up your WordPress project
Progressier can enhance your WordPress web app with additional features such as push notifications and the ability to be installed as a Progressive Web App (PWA). You can incorporate Progressier into your project when your app is live and accessible at a custom domain.
Step 2: Register for a Progressier account
Progressier is a web toolkit that allows you to easily add new capabilities to your WordPress app (and apps from hosting providers as well) using little to no code at all.
Create your Progressier account . Progressier comes with a 14-day free trial that allows you to integrate it into your WordPress app risk-free. You only enter your payment information once everything is working to your liking.
Step 3: Make your WordPress project a PWA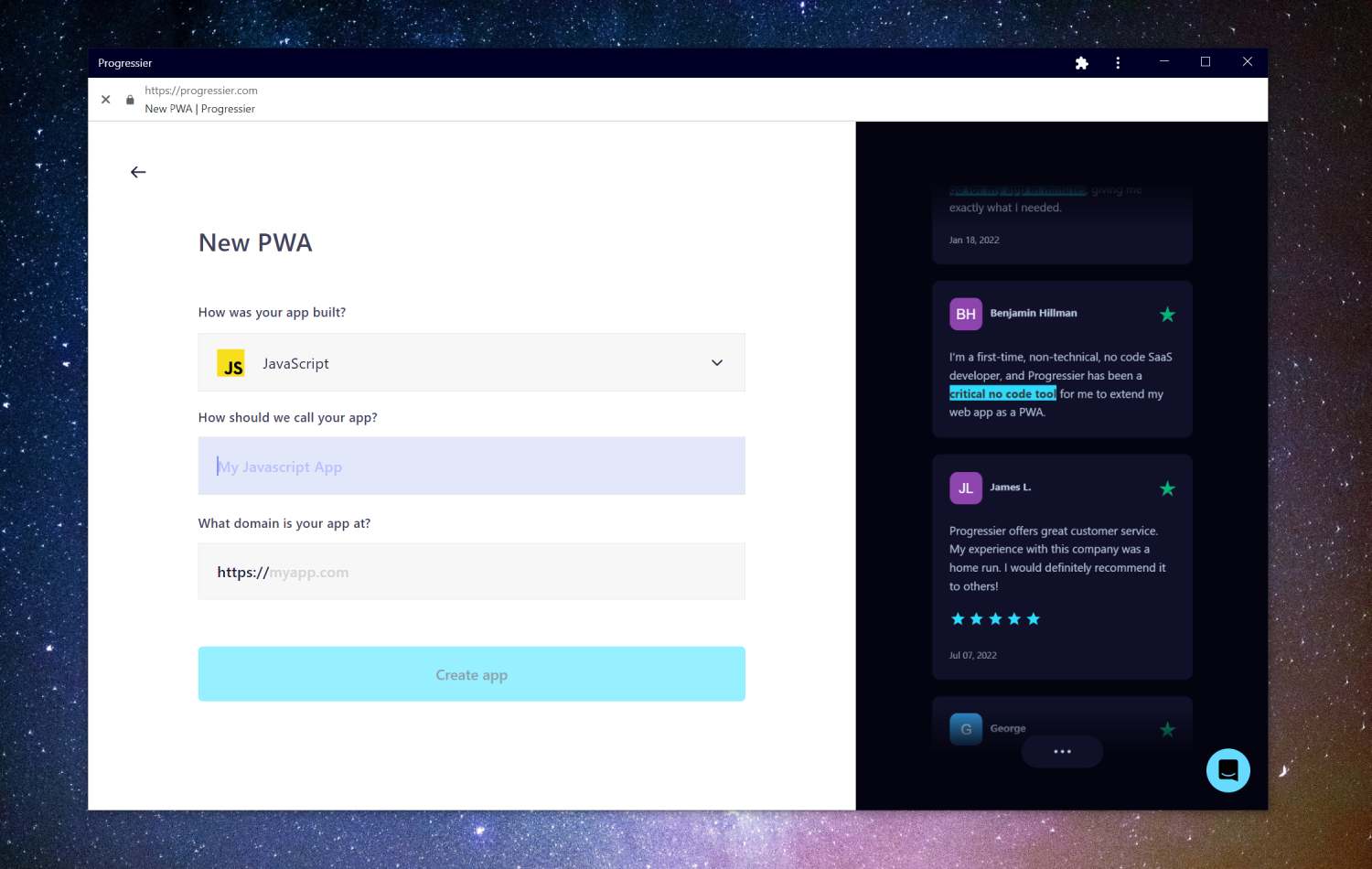 Next, create your WordPress app in Progressier. Go to New PWA, then select WordPress in the first dropdown menu. Give your app a name and paste the URL of your WordPress project in the third field.
Step 4: Complete the setup of your WordPress PWA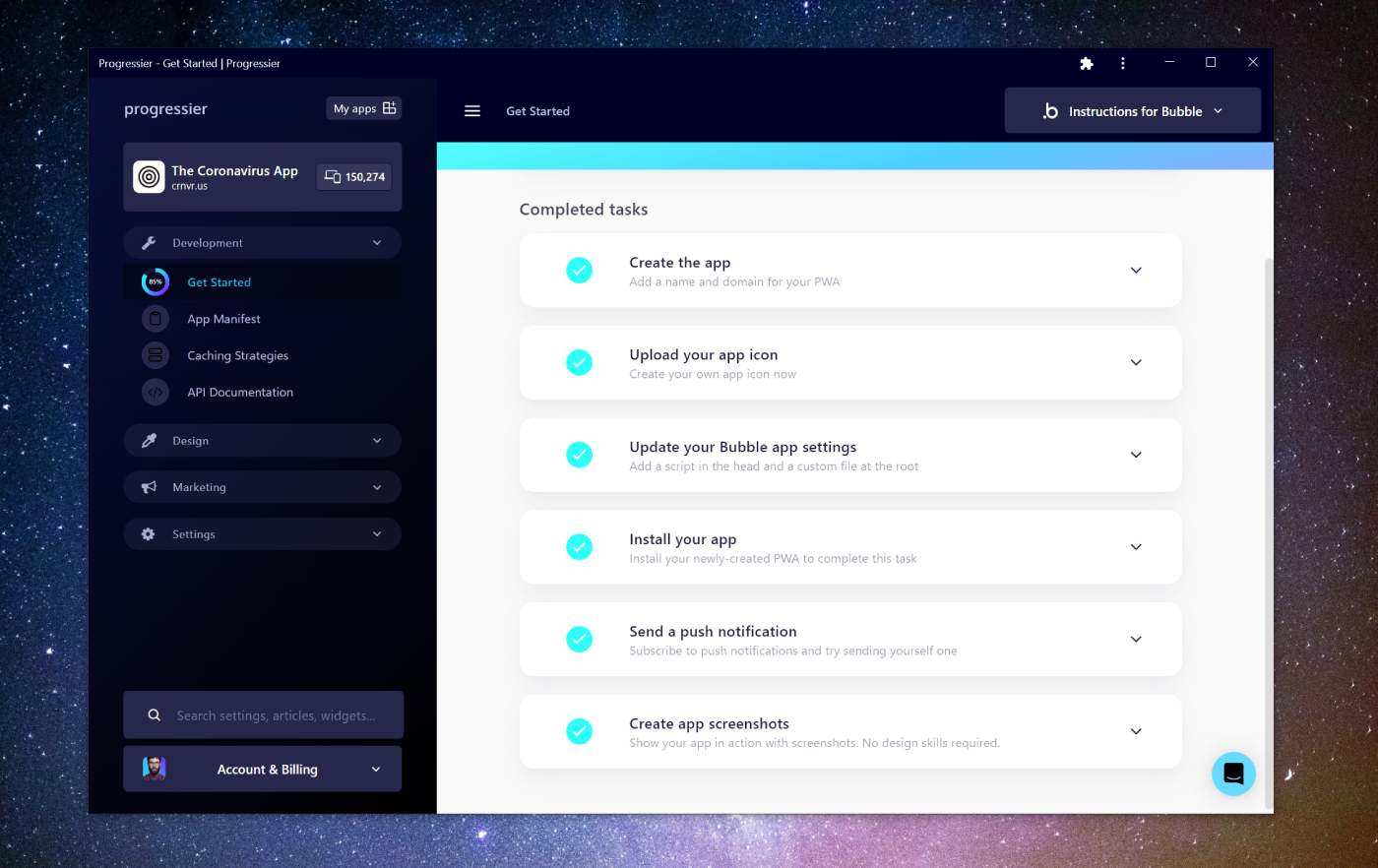 Once logged in to the dashboard, follow the instructions in the Get Started section to complete your WordPress integration. With WordPress, it typically takes about 8 minutes.
Step 5: Authorize push notifications
Now go to your own app. You should see a button at the bottom-right corner of your app. Click on it and then tap Get notifications. You should be prompted to allow notifications. Once notifications are allowed, you'll be able to notify yourself with a test notification
Step 6: Let's send a push notification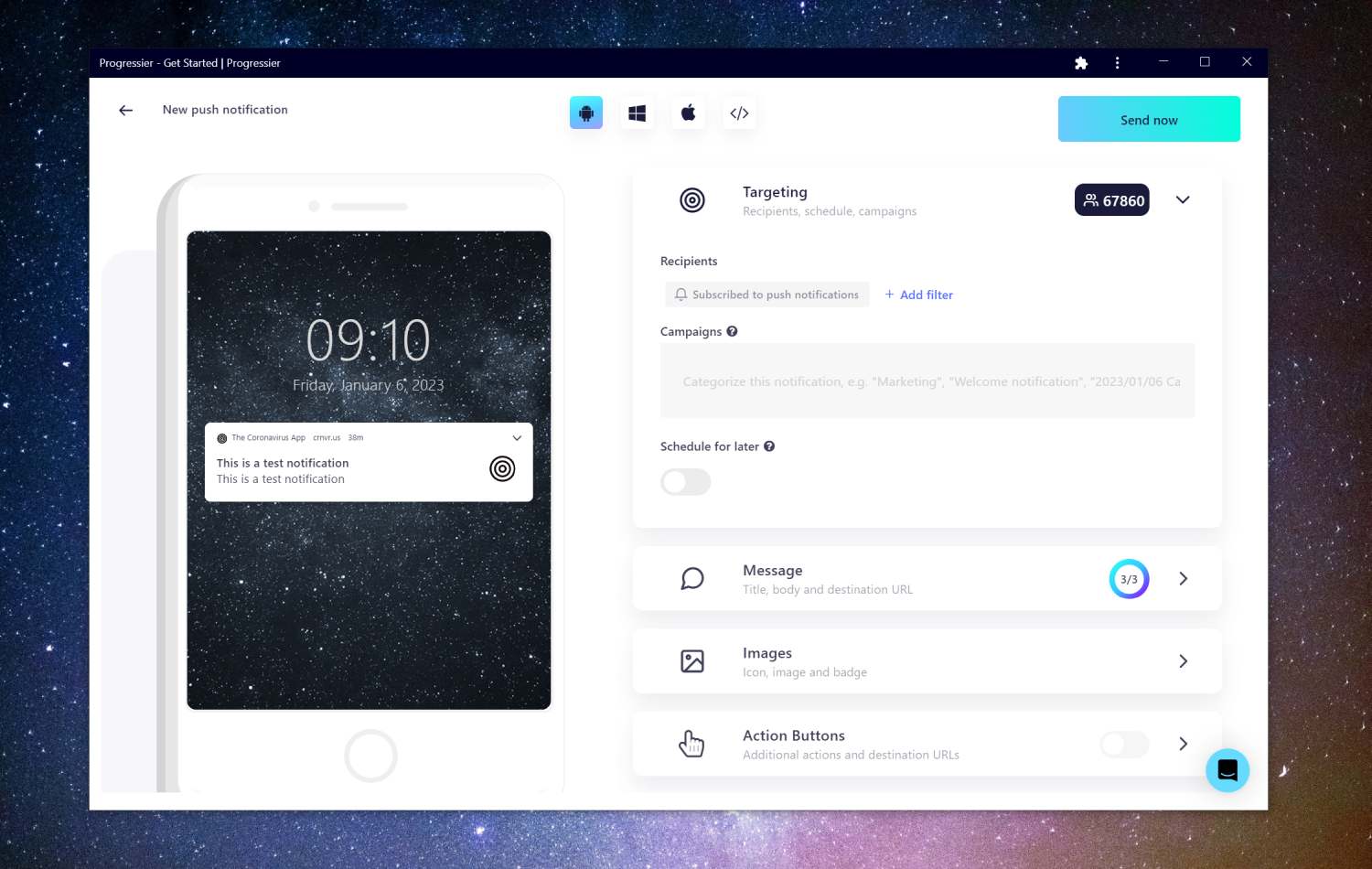 Go to our Push Composer (login required) to compose your first push notification. By default, it will be sent to all your subscribers, but you can target a specific group of users in the Recipients section of the Targeting tab.
Step 7: Sync your own user data (optional)
Sending the same notification to every user for marketing purposes is one thing. Sending notifications programmatically to a user to react to events in your WordPress app is another. Luckily, Progressier comes with a solution for both use cases. Simply connect your user data (e.g. a user ID or user email), then call our Push API in your server-side code to send a push notification to a specific user. You don't have to manage push subscriptions on your end.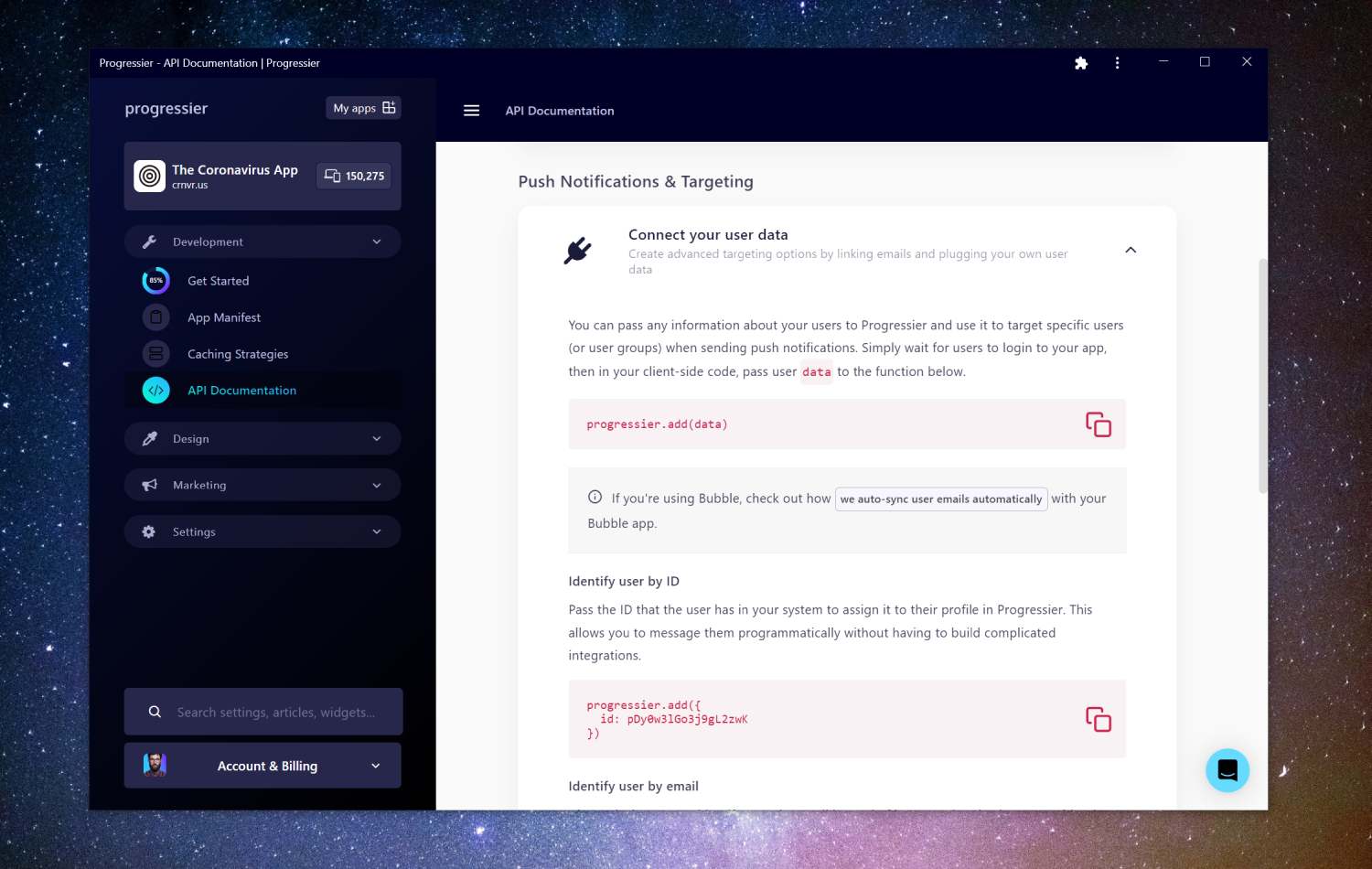 Why should you add push notifications to your WordPress web app?
Push notifications can help keep users coming back to the app by providing them with valuable and interesting content. For example, if you have a fitness app, you can send push notifications with daily workout tips or challenges to keep users motivated and engaged.
Also, push notifications can provide a more convenient way for users to receive updates and information from your app, improving the overall user experience. For example, if you have a weather app, you can send push notifications with real-time weather updates to help users plan their day.
The challenges of implementing push notifications in web apps
Apple has announced that push notifications will be coming to iOS in 2023. But in the meantime, the Web Push API only works on desktop and Android, so if your web app is mobile-first, only half of your users will be able to benefit from receiving push notifications.
Users may opt out of receiving push notifications if they find them to be too frequent or irrelevant. Also Google sometimes auto-blocks push notifications for users that frequently block them.
What are the best push services for WordPress apps?
There are many different push notification service providers to choose from for your WordPress app, and the best one for you will depend on your specific needs and requirements. Some of the most popular push notification service providers include:
- OneSignal: Probably the most popular option for push notifications. OneSignal works well across platforms and provide more options than FCM but can be quite costly, especially at scale.
- Progressier: probably the best option if you develop web apps as it also comes with additional functionality designed to enhance web apps specifically, e.g. targeted push notifications.
- Airship: Another tool designed to help developers and marketers engage with their users through personalized and timely messages delivered to their mobile devices. Not exclusively web-based.
- TruePush: Another popular option for developers to integrate push notifications into their WordPress app.
Developing your own push notification solution
If you're using WordPress, it's likely you value simplicity and getting things done quickly. Building your own push service requires code (a ton of it!) and is a non-trivial engineering effort. While sending a notification to one user is easy, sending it to many simultaneously is pretty hard and requires capabilities that can't be replicated in no-code or low-code platforms.
What devices and browsers are compatible with push notifications?
The Web Push API is compatible with Windows (via Chrome, Edge, Firefox, Opera), macOS (Firefox, Chrome, Edge, Safari 16 on macOS Ventura), Android (Samsung Internet, Chrome, Firefox). Push notifications will also soon be available on iOS with Safari.